Post by JohnnyO on Aug 9, 2013 16:02:46 GMT -5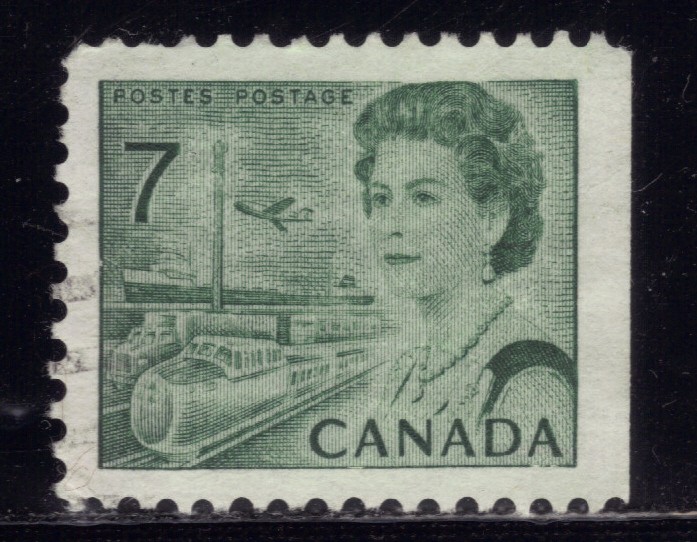 Title: Queen Elizabeth II, Transport and Communications
Denomination: 7¢ Slate Green
Date of Issue: 30 June 1971
Printer/Quantity:
British American Bank Note Company
Canadian Bank Note Company, Limited
Perforation: 12.5 x 12, 10 horizontal
Creator(s):
Designed by Harvey Thomas Prosser
Based on a photograph by Anthony Buckley
Scott number 543 ( some variants)
Historical Notice: Canada's new 7c. definitve postage stamp, based on a "Communications and Transportation" design originally employed on 1st November 1968, will extend a series which dates back to 8th February 1967. A tone of green utilized on the new stamp has given evidence of a quality in colour which is effective in a system of mechanical facer-cancelling equipment. The stamp design, in a format similar to other values illustrating the five major economic regions of Canada, pays tribute to the importance of transportation and communications as vital services linking vast reaches of our country. The microwave tower, part of a coast-to-coast system supplementing land-line and cable connections, is symbolic of communications. Transportation is illustrated by a variety of land, air and water vehicles. Extraordinary transportation statistics become commonplace in a land approximately 5,000 miles by 3,000 miles. Canada's vital transport needs in the commercial development of a near 22 million population are served by an estimated 60,000 miles of railway tracks, more milage per capita than any other country in the world. Nearly 500,000 miles of highways and streets, mostly surfaced, are available for some 8,500,000 registered motor vehicles. "Main Street" in Canada, a dream for decades, became a reality in 1962 with the completion of the Trans-Canada Highway. This vast one billion dollar project, coordinated by an Act of Parliament passed in 1949, stretches more than 4,800 miles from St. John's, in the island Province of Newfoundland, to Victoria, on British Columbia's Vancouver Island. Herculean engineering feats in the construction of Canada's "Main Street" recall epic achievements in the 1880's when the nation's Pacific coast province, British Columbia, was first linked with the eastern provinces by a transcontinental rail line. Approximately 65 miles of railway track were in existence in all British North American Colonies in the year 1850; by 1860 the ribbons of steel exceeded 2,000 miles. Since alexander Graham Bell's "Silver Dart" achieved Canada's first airplane flight in 1909, conquest of the air has made vast contribution to the nation's economy and to communications with remote areas. Powerful jets today speed passengers and goods from ocean to ocean in the matter of a few hours. By contrast, on 1920, the first coast to coast flight, organized by the Canadian Air Board, required a flying time of 45 hours from October 7th to October 17th. Waterways had been the first highways and a development of these natural routes was synonymous with the spread of commerce. Nature's barriers in the form of waterfalls and rapids have been overcome by vast engineering works, the most notable being the St. Lawrence Deep Waterway's project. Completed in 1959 at a total cost of $470,000,000, Canada's share of which was $330,000,000, the Seaway transformed inland lake cities into seaports and enables all but the largest seagoing vessels to steam 2,000 miles inland.