Post by PostmasterGS on Feb 14, 2016 22:05:01 GMT -5
It's about time, so here goes... the PMGS StampFix app.
Special thanks to my beta testers. There were significant changes between v1.0 and the current version (v1.08), and I couldn't have done it without your help. Please make sure you update to the current version.
What it does:
It takes this (left), and turns it into this (right). It'll do single images or batch processing.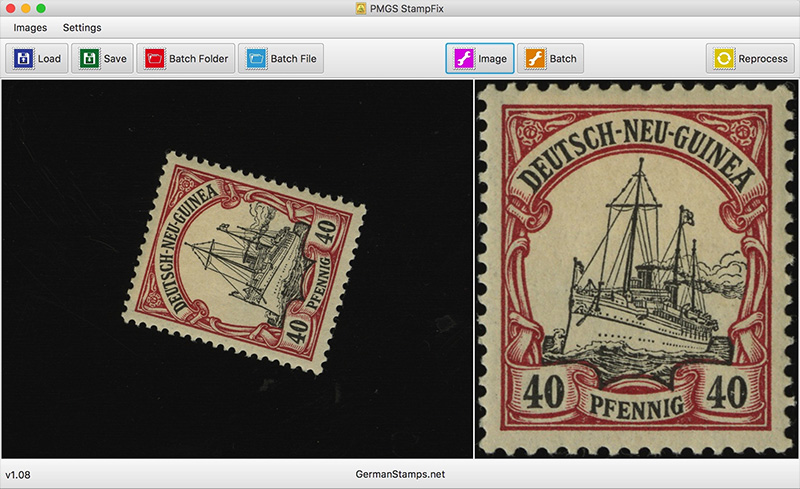 Compatibility:
Windows 7+ and Mac OSX 10.10+. I suspect it might work on OSX 10.9, but I don't have confirmation. I'm working on a Linux version (sorry
apastuszak
).
Limitations:
It's designed to work with stamps scanned on a
black background
. I'm working in modifying it to do white backgrounds, but it's a bit trickier. This is the issue with which my beta testers had the most difficulty. I never realized how many people scan with a white background. Here's a tip -- Strathmore Chromolux Mirri Sheet, $2.99 for a 19 1//2" x 26" sheet at
Hobby Lobby
. Cut it to the same size as your scanner lid and attach it with Scotch
Scrapbooking Tape
.
Where can I get it?
The latest version will always be available
here
. The page also has some basic instructions on how to use the app.
How much is it?
$100
$50
$20
$2.99
Free. Frei. Gratis. Gratuit. Livre. свободно. вільний. 無料で
If you charge people for software, they expect lots of customer support, and we cant have that!

I do still have a day job. But seriously, I'll do my best to provide any support needed.
I made the app to save myself a lot of time and effort. You folks get the benefit. Though I'm not charging for use of the app, there was significant cost involved in creating it, so if you feel like donating to the cause, there's a PayPal link on the download page.
What I ask of you:


Despite the best efforts of me and my beta testers, there will, no doubt, still be some bugs. If something isn't working or isn't behaving like you think it should, please note (1) what you were trying to do, (2) what the incorrect/unexpected behavior was, and (3) and error messages it gives you.
I have no doubt there will be some quick updates once everyone starts trying it out. I ask that you please be patient if there are new versions fairly often until I get the last of the bugs worked out.
Also, if you have any suggestions for improvements, please let me know.
Demo:
Enjoy.